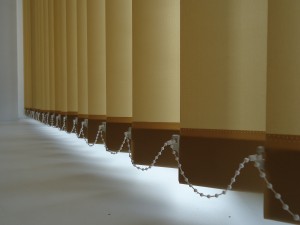 Vertical blinds in addition to their basic use, provide privacy and protect from light, moreover they are an affordable and popular way to decorate your home or business premises and provide a sophisticated look.
Our vertical blinds are made of plastic coated, cotton or PVC (screen) fabric. The blade width is 127 or 69 mm. Head rails for vertical blinds are made of aluminium profiles. Driven by a rotating chain – twine, so that you can regulate the amount of light you let into the room.
They are antistatic, odourless and do not catch dust. Because of their appearance and controls they can easily fit any space. Due to a large choice of styles and colours they suit every taste.
The advantage of these blinds is that they can be changed later on by simply replacing the blades only to match the changes in interior design.
Vertical blinds used to be characteristic of business premises but, due to a large of styles and colours, they have found use in housing as well.